FOR IMMEDIATE RELEASE
NEW BOOK OFFERS HELP AND ENCOURAGEMENT TO THOSE STRUGGLING WITH MENTAL HEALTH ISSUES.
A nationally recognized leader in mental health recovery programs, Nanette Larson tells the dramatic story of her struggle through years of mental illness and shares how she attained freedom and full recovery through hard work and a personal relationship with Jesus Christ. Ms. Larson's message is one of hope and encouragement for those who struggle with mental health issues.
Mental illness has long been treated differently—by the medical community and the public alike—from other illness. We often hear things like, "Oh, she's bipolar" or "he's manic depressive." But when is the last time you heard someone say, "My mom is cancer" or "my friend is diabetes"? No, we say they have cancer, they have diabetes.
"One of the sickening consequences of mental health diagnoses," Nanette says, "is that rather than being treated as illnesses one might have, they are seen as one with the person." This creates an atmosphere of defeat and self-incrimination for the person so diagnosed. Nanette explains, "If I have an illness, I'm going to work hard at fighting it. If I am an illness, what or who am I supposed to fight? Myself?"
It was a battle she herself fought, and in her book From Shattered to Restored, Nanette Larson shares not only her struggle and hard-earned victory, but the strategies and techniques that developed as she blazed a trail through old-school mindsets and treatments to prove that mental illness is not something to live with—it's something to overcome.

ABOUT THE AUTHOR: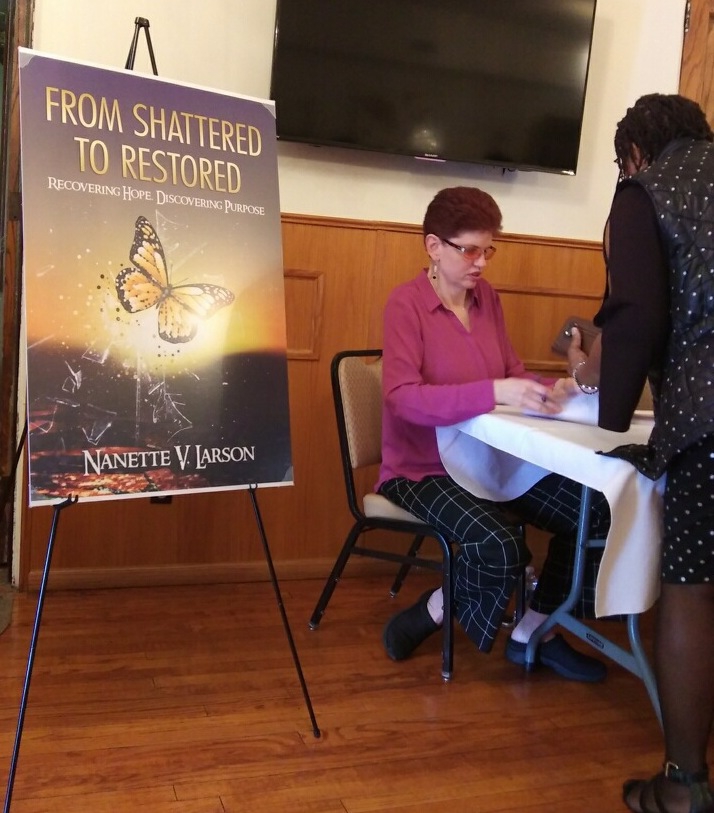 Nanette Larson is a nationally recognized leader in mental health recovery who has spent the last twenty years providing leadership in Illinois' public mental health system and developing recovery-oriented, trauma-informed systems of care. She is an Emotional CPR practitioner, an advanced-level facilitator for Wellness Recovery Action Planning (WRAP), and a certified Recovery Support Specialist. She lives in central Illinois and enjoys learning, hiking, swimming, and growing alongside her many nieces and nephews and one precocious godson.
https://www.facebook.com/From-Shattered-to-Restored-190365218520328/?modal=admin_todo_tour
For review copies and media interviews, contact: